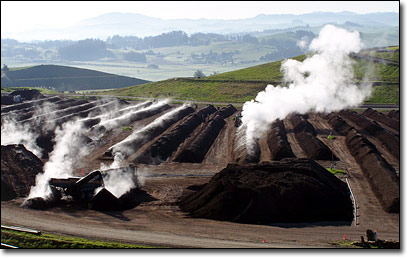 Contact Information

Phone/email orders only
Tel: 707 664 9113
Sales hours: By appointment

Sonoma Compost Is Reinventing
We are very sorry that Sonoma Compost is no longer able to serve our community at our old location. Since, we have been looking to serve you in any way at all. We now have a limited source of organics available. While we are finetuning the products, we are very pleased that we now have limited supplies of Vineyard Mulch, an equivalent of Sonoma Compost and some firewood available.

Sonoma Compost Closure: Note From The Owners
Dear Friends of Compost,
We are sad to report that as of October 15, the current Sonoma Compost operation will be completely shut down. The reasons are complex, and the easy answer is that a few NIMBY neighbors saw an opportunity to reduce activity at the landfill near their homes, and leapt at an opportunity to shut down our compost operation. Although solutions were possible, the roadblocks became insurmountable and cost-prohibitive.
Sonoma Compost is hopeful that a new compost site can be developed in the next several years, and that quality soil amendments will be produced again, right here in Sonoma County where we need them. In the meantime, please remember to "keep your green clean"!
Please help us stay in touch with you. You can sign the Save Sonoma Compost petition started by the Farmer Guild, and visit (like and share!) our Save Sonoma Compost FaceBook page, or check our website for periodic updates.
All yard debris will continue to be collected as it is now. If you use a green can at home, or if you bring it directly to the facility, you will continue to do so (dropped off at a different spot at the landfill). All material delivered to the Central Landfill and the Transfer Stations around the County will be consolidated and sent out-of-county to several Bay Area facilities for processing.
Yes, you will see the tipping fees and your garbage bill increase. As part of the new County agreement with Republic Services, there are additional fees on yard debris (and garbage). In addition, users will also see a second rate increase to cover the cost of out-hauling our yard debris resource.
We at Sonoma Compost have had the great privilege to serve you, our farming, landscaping and gardening community since 1993. We are proud of the good work we have done to take what was once a waste product, and to turn it into a resource needed and loved by you, our friends and neighbors.
Sincerely,
Alan and Will
The North Coast Regional Water Quality Control Board has communicated clearly that they desire the facility to remain open. See their letter here.
Keep this topic alive. While a small group of Sonoma Compost Co's neighbors have been successful in their lawsuit to shut down local composting in Sonoma County, we can't afford to sit back. Not only did our County lose a valuable resource, but hundreds of tons of yard debris will be trucked daily to multiple facilities out of the county. We need to bring these organics back to Sonoma County as soon as possible.
Our supporters, the farm community, have set up a petition. Please, click the image above to sign on and voice your support for this program.
Site Clearance Sale
Sale. See your Non-Compost Sale webpage for close-out items we have for sale such as pier blocks, office trailers, shipping containers, etc.
Presentations
Sonoma Compost does presentations about on-site composting, the benefits of compost to soils, the role of compost in IPM, etc. For those who attend the presentations I leave a copy of the most recent presentation here. If you have not had a chance to attend one of the talks, it will give you a sense of what will be discussed.
Lawn Conversion: A Tool To Live With Drought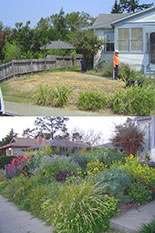 We are facing a serious drought. Everyone has to chip in to cope with the drought. If you have a lawn, lawn conversion is a green way to conserve water, soil and labor. When you remove your lawn you also remove approximately 500 years of fertile soil. The lawn that is pulled out cannot be composted, since it has too much soil in it. In the landfill it contributes to greenhouse gases. So, why not just leave it in and turn it into the foundation for a drought tolerant native landscape or vegetable garden. Simply cover the lawn with compost, cardboard or newspaper and mulch, keep moist, and nature will do the rest for you. For more information on how to do this take a look at our Lawn Conversion document.


Food Scrap Composting In Restaurants: A How To Guide


Vegetative food scraps are now being collected in the city of Sonoma. The video below, produced for Sonoma Compost by Ariana Victor, provides step by step instructions how to set-up a successful food scrap recycling program.





Stay in Touch, Join Us On Facebook


We will miss you, but stay in touch. Find out what may be in our future. We'd love to hear from you. Go to our Facebook page.

Organic • Local • Affordable
We operate the successful Sonoma County Organic Recycling Program. We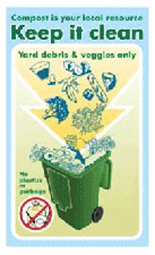 produce premium quality organic compost and mulch from 100% recycled organics. To date over 1,600,000 tons of organics have been diverted from the landfill and turned into valuable compost and mulch.
To check what materials are accepted at our site, or which ones are not, please see the Organic Recycling Guide. Sonoma Compost does not accept compostable plastic products. Read our Pitfalls to Compostable Plastics document.
Our soil products are used by Sonoma County's most prestigious grape growers, organic farmers, backyard gardeners and professional landscapers. We also sell good quality recycled lumber and firewood at very affordable prices.



We have one of northern California's largest selection of organic compost and mulches. Our Sonoma Compost, Organic Hi-Test Compost, Mallard Plus, Feather-Lite Amended Soil and Vineyard Mulch are all listed as "Allowed" materials with the Organic Materials Review Institute (OMRI) and registered with the California Depertment of Food and Agriculture (CDFA) for use in the production of organic food and fiber. Because of our listing, you'll find our compost used on many of California Certified Organic Farms (CCOF).



Sonoma Compost promotes organic and sustainable management practices that minimize chemical use and emphasize preserving and rebuilding our valuable topsoil resource.

Putting It All in Perspective
Sonoma Compost has provided compost and mulch services for over 25 years. We hope you'll enjoy this video and learn more about Sonoma Compost.
Sonoma Biochar
NOTE: TEMPORARILY OUT OF STOCK. Sonoma Biochar is a new innovative product that improves soils in a sustainable, lasting way. While improving your soil, carbon is taken from the atmosphere, locking it into the earth for thousands of years, thereby reducing greenhouse gases. Biochar will greatly enhance the water holding capacity of your soil, conserve nutrients through its high cation exchange capacity (CEC) and help increase microbial populations and diversity. Read more.
Food Scrap Program Takes Composting to the Next Level
Sonoma Compost, in collaboration with the City of Sonoma and Sonoma Garbage Collectors, launched a new program in the spring of 2011 to collect food scraps from commercial kitchens in the City. Sonoma Compost is working to establish similar programs throughout the County.

For more information on this program, please read the related article in Sonoma News.

Take a Relaxing Virtual Tour of the Sonoma Compost Facility
Follow your yard debris and kitchen scraps from entering the facility, through the grinder, in the windrow, passing the screen to finally end up feeding the soil. Sit back and enjoy!
Celebrate Sonoma - Compost from James Parker on Vimeo.
Sonoma Compost Supports School Gardens
We work closely with local schools to promote organic recycling and educate school children about the importance of nature's decomposition process. We are proud to donate compost to school garden programs and provide interesting field trips to our organic recycling facility.


Sonoma Compost Produces Biodynamic Composts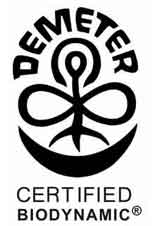 Biodynamic agriculture was developed to address depletion of soils following the introduction of chemical fertilizers at the turn of the century. Biodynamic principles conceive of the farm as a self-contained organism with an integrated system of crops and livestock emphasizing food quality and soil health.
Sonoma Compost produces two Biodynamic Composts: Sonoma Biodynamic Compost (for vines, trees and native plants) and Biodynamic Hi-Test Compost (for hi-nitrogen loving crops such as vegetables. Next batch will be available in July). Sonoma Compost Biodynamic Composts were developed with the assistance of experts from the Josephine Porter Institute of Applied Biodynamics and the Biodynamic Association of Northern California using the Demeter® Association's Commercial Composting Standard as a guideline. The Demeter certification program was the first ecological label for organically produced foods.
Sonoma Compost Biodynamic Composts are created using the same process used to produce our other trusted composts. These specialty products are lab tested and listed by the Organic Materials Review Institute (OMRI) for use in organic production and are Demeter Certified for use in Biodynamic vineyards, farms, market, and home gardens. For more detailed information see our Biodynamic Compost Information.
Read Our Article in the Biodynamic Association of Northern California BDANC Newsletter(Click image)

A Primer on Backyard Composting